Simplified EDI, now with flat pricing
Parse your first EDI file in minutes. Integrate once with a modern API. Never pay usage fees again.


Take control of your EDI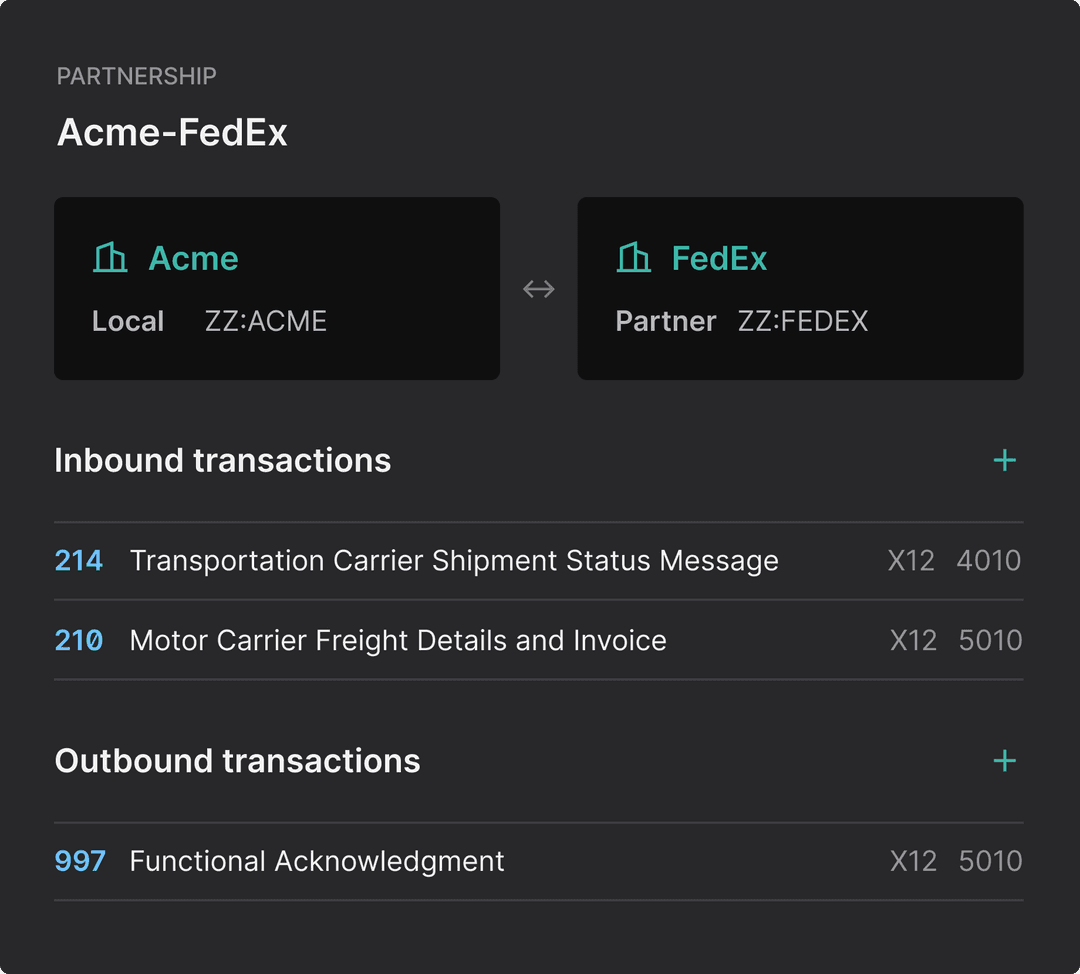 Shorten your timelines
Configure, test, and modify every partner integration without opening a support case. We're happy to help, but we'll never block you.
Access all your data
View transaction activity in real time.
Filter data or use a business identifier such as a PO number to locate specific transactions.
Inspect and export raw data for testing or additional analysis.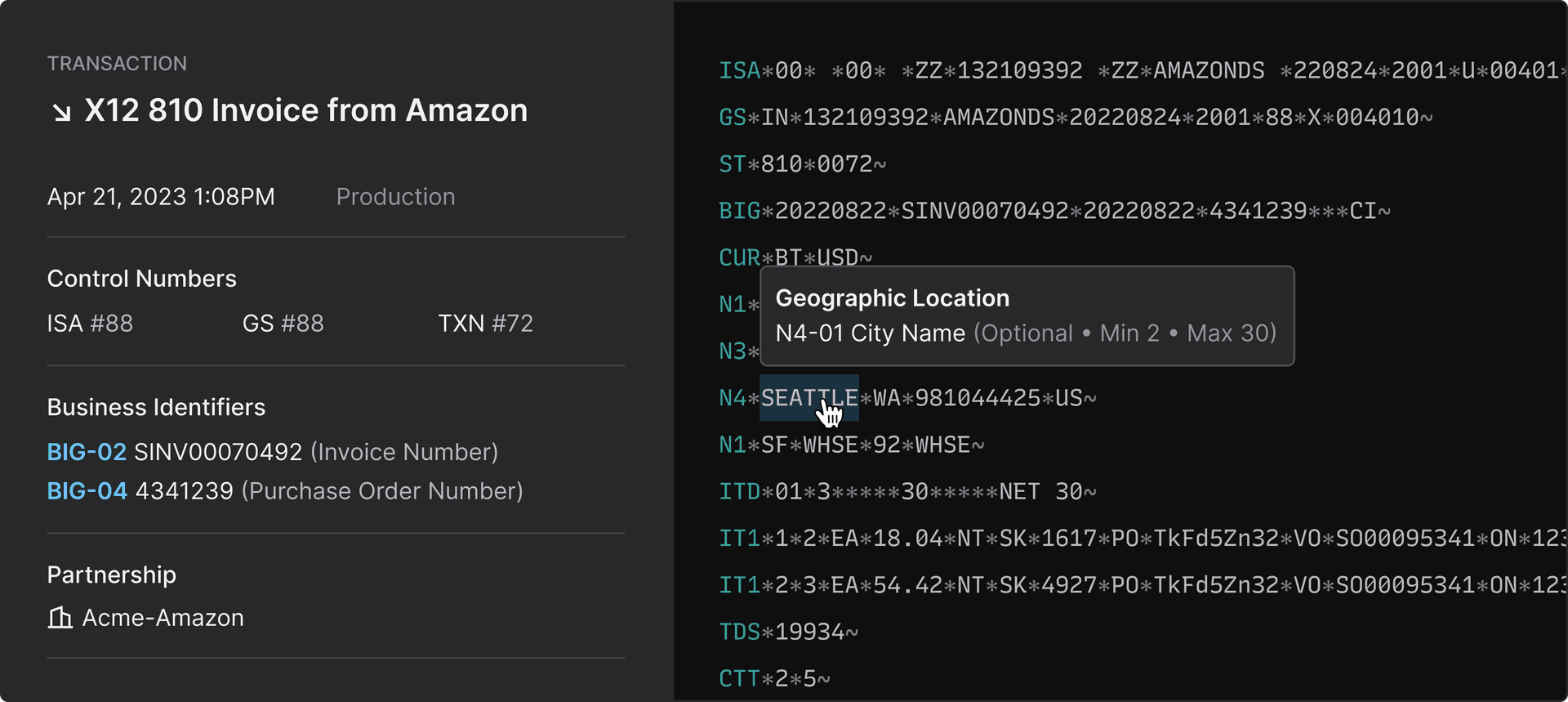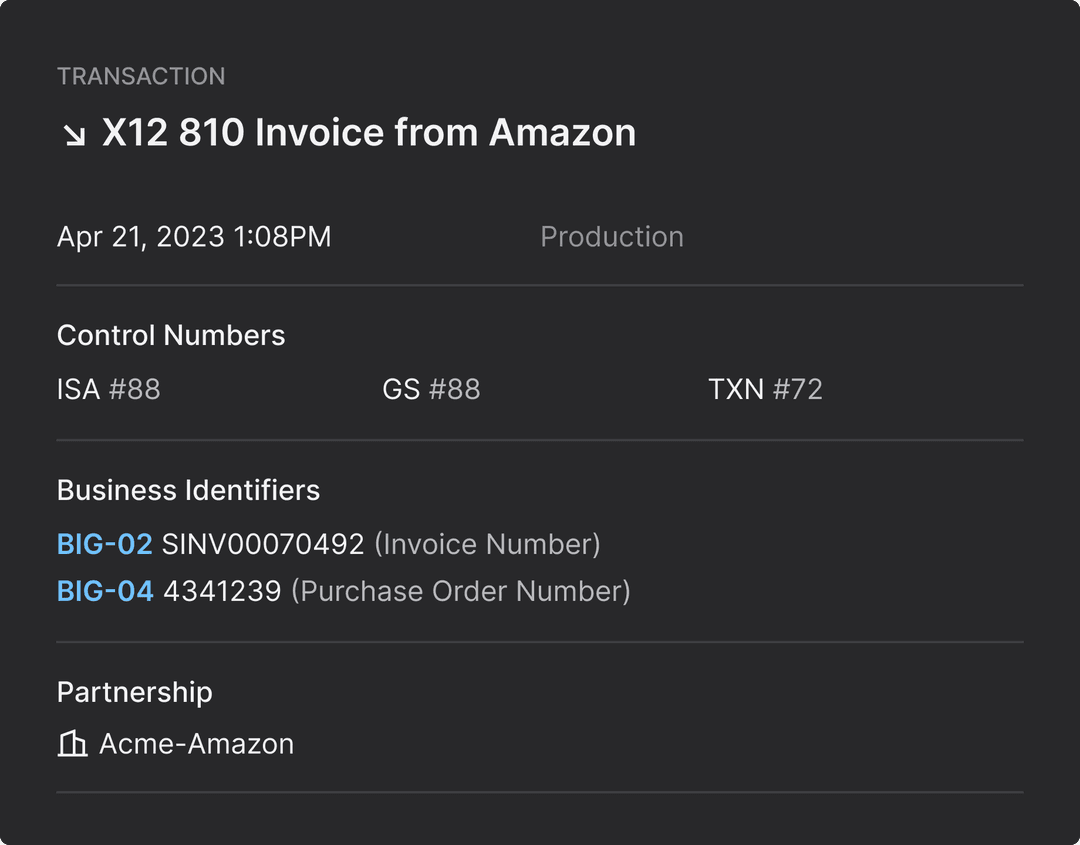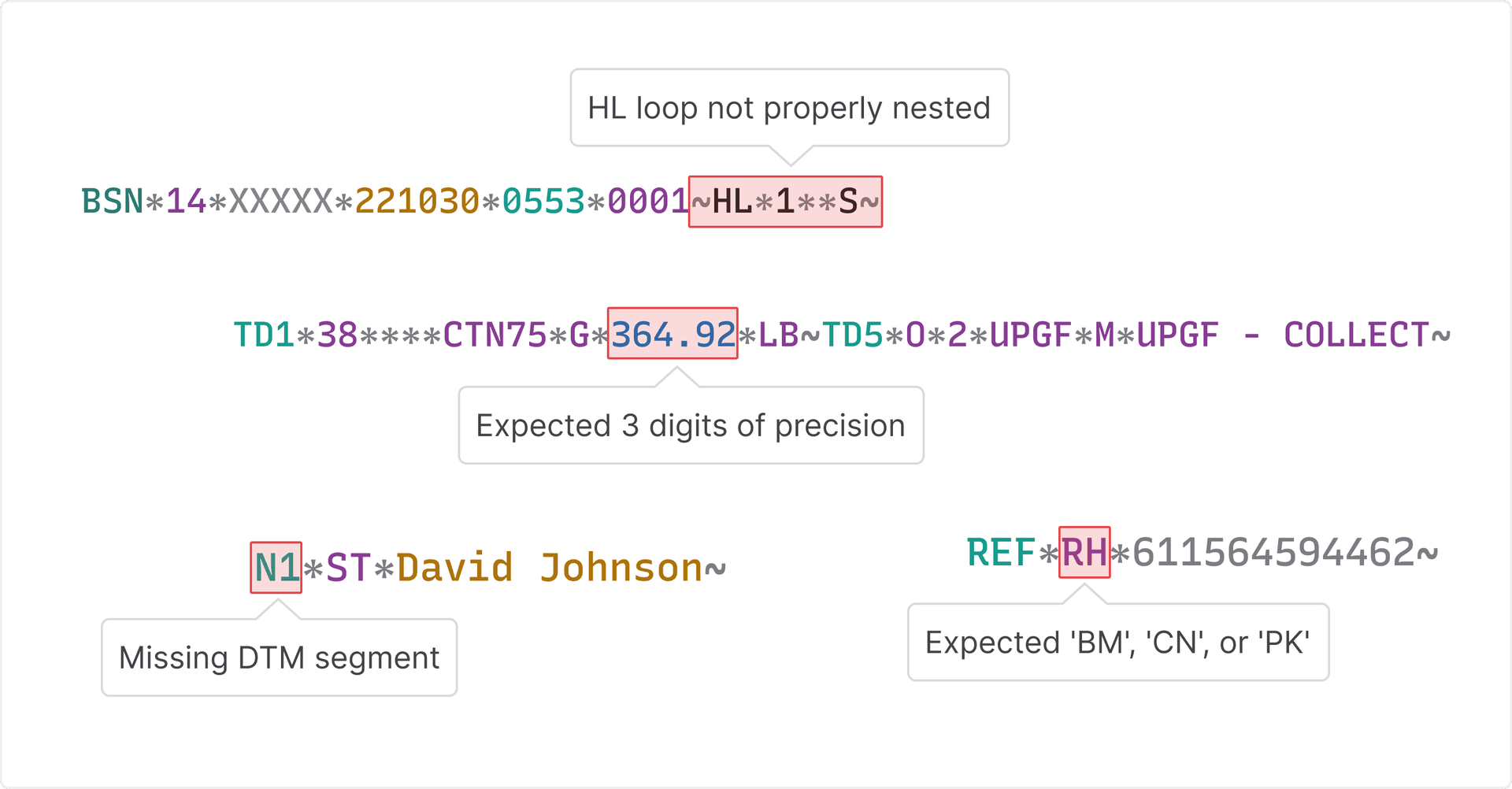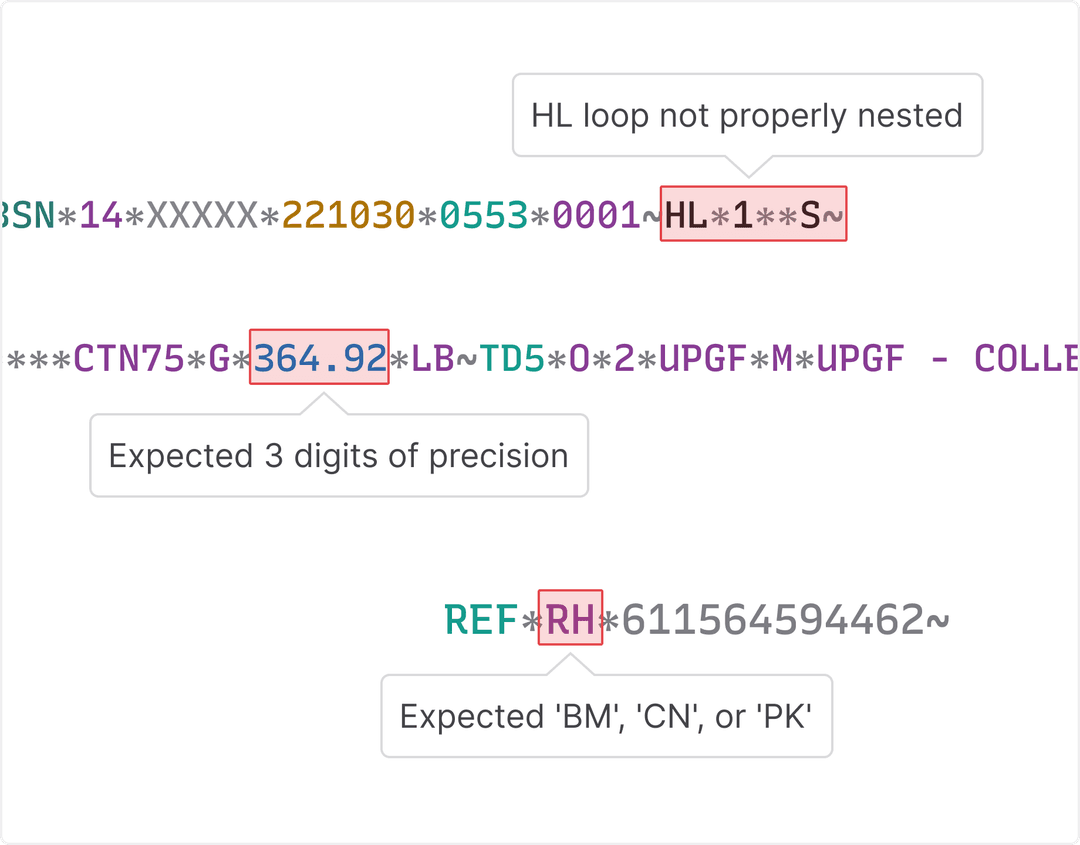 Unblock yourself
Diagnose issues quickly with clear, helpful error messages.
Inspect files in your browser to identify EDI formatting problems, missing or incorrect codes, and more.
Retry files at any time to get back on track.
"Stedi is the obvious choice when you want to actually own your EDI solution without building everything from scratch. The ability to find and fix EDI issues ourselves is especially game-changing.
We are so impressed by how quickly we can onboard new retailers as our business grows."
Vidhur Kumar, Software Engineer at Pallet
"Our first retail partner gave us a deadline to integrate EDI, and we had no existing solution. Within a few weeks of meeting with the Stedi team for a demo, we had a production integration live that translates EDI to and from a custom CSV format that we defined in NetSuite. At every step, the customer engineering team remained incredibly responsive and helpful.
We are so impressed by how quickly we can onboard new retailers as our business grows."
Michelle Frey-Tarbox, Director of Operations at Shinesty
"Stedi Core has made me look like a superstar to my clients and trading partners.
EDI setup and trading partner testing have become seamless, and the full visibility into file executions and transaction flows makes Stedi the new industry standard for organizations of all sizes. I have worked in the EDI space since 2012, and I can say unequivocally that Stedi is the future!"
Paul Tittel, Founder of Surpass Solutions Inc.
Onboard trading partners fast
"Stedi's X12 HIPAA guides are a great way to skip the traditional back-and-forth of PDF guides and sample files. We have been able to cut implementation fees with some partners by five-figure amounts because we can generate valid data so quickly.
Our partners also appreciate that we can handle integrations ourselves"
Russell Pekala, Co-Founder of Yuzu Health
Configure integrations in minutes
Define relationships between you and trading partners in just a few clicks. Quickly set up SFTP/FTPS or AS2 connections and map data into any shape you need.
Reduce partner onboarding time
Share EDI requirements as Public Guides with interactive validation against the guide's specifications. Find and fix errors in EDI test files instantly, instead of spending weeks on back-and-forth troubleshooting.
Pre-built trading partner specifications
Browse our public catalog of Stedi guides containing machine-readable EDI requirements for popular trading partners.
Instantly import guides into your Stedi account for free and use them to validate and write EDI according to your partner's requirements.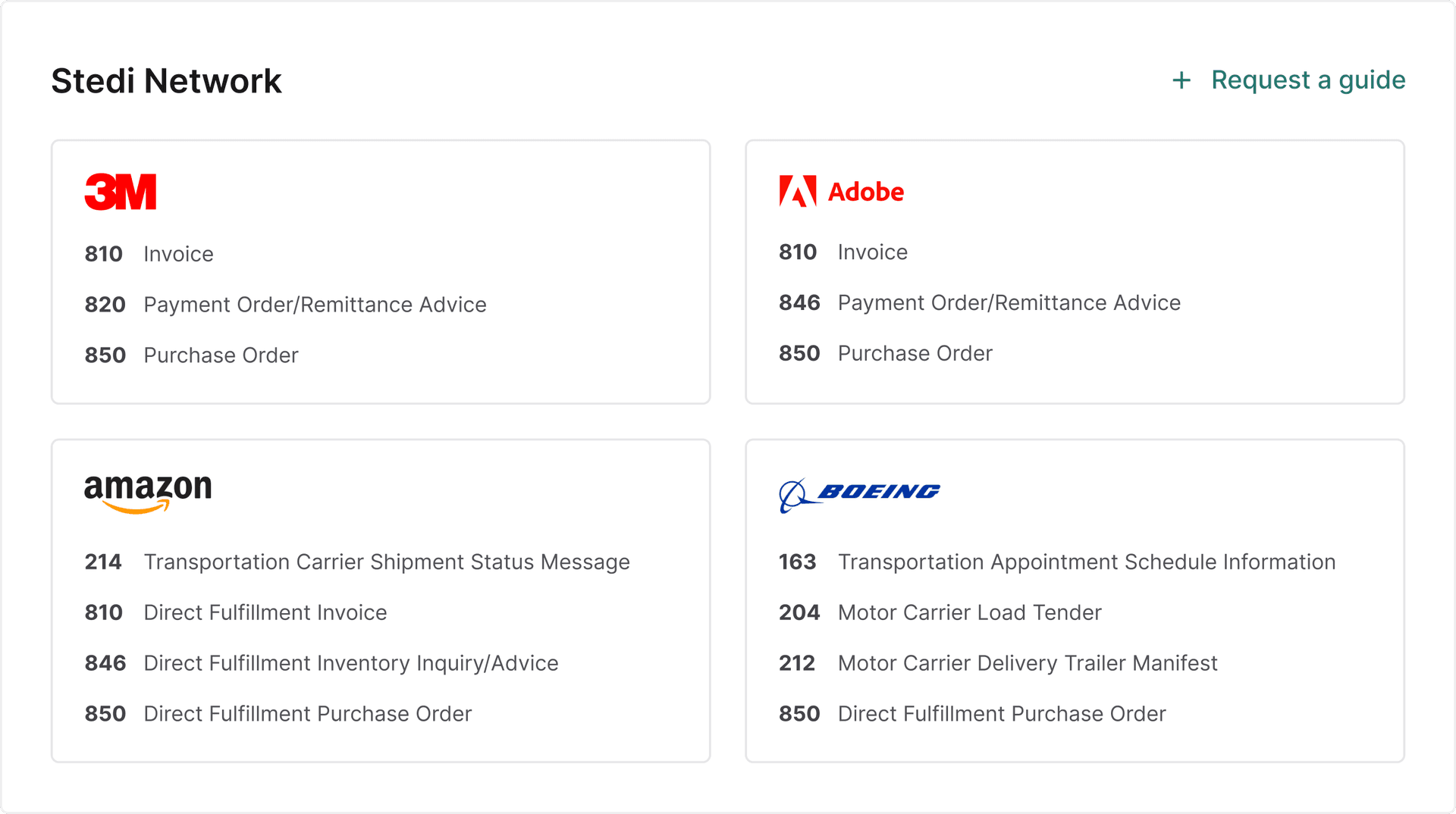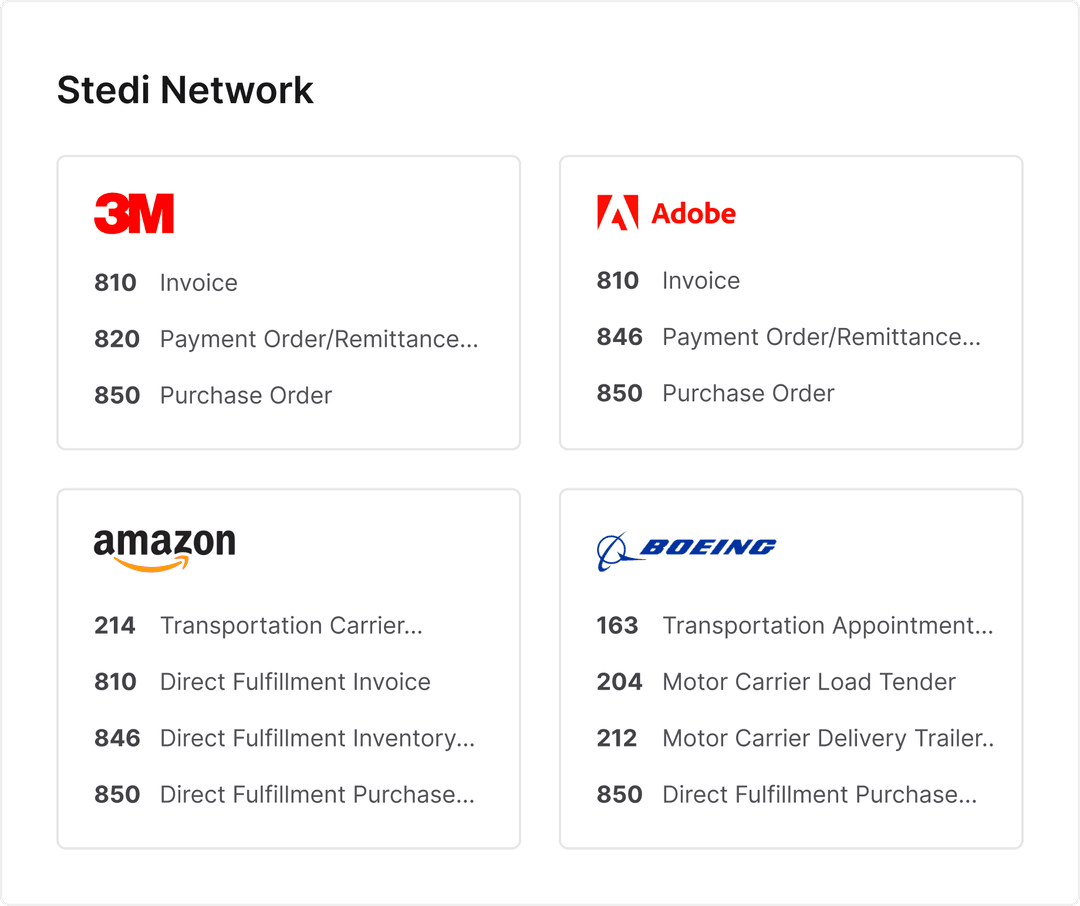 Everything you need to get to production (and beyond)
~
Enterprise-ready
Stedi runs on scalable infrastructure backed by public SLAs. Our products are HIPAA-eligible and SOC 2 Type 2 compliant.
$
Transparent pricing
Public pricing with no hidden fees. Free tier for evaluation, so you can see whether Stedi meets your needs before committing to a full solution.
%
Familiar protocols and formats
Turn EDI into JSON, a familiar format for developers. We support AS2, SFTP, and FTPS protocols for secure data exchange with your trading partners.
#
Every X12 transaction
Read and write any X12 or X12 HIPAA transaction from any trading partner in any industry, including logistics, transportation, retail, and healthcare.
}
Integrated EDI guidance
Get to production faster with clear error messages and implementation tips based on the X12 EDI specification. EDI Reference also offers full documentation for every X12 and EDIFACT release with fast, full-text search.
*
Free, hands-on support
Our onboarding team shares best practices, helps you design your integration, troubleshoots issues, and more. We also offer detailed product documentation, including tutorials and API and SDK references.
Build an end-to-end integration in under 15 minutes. Automate exchanging EDI with any trading partner. Monitor transaction history and analyze your EDI data in real time.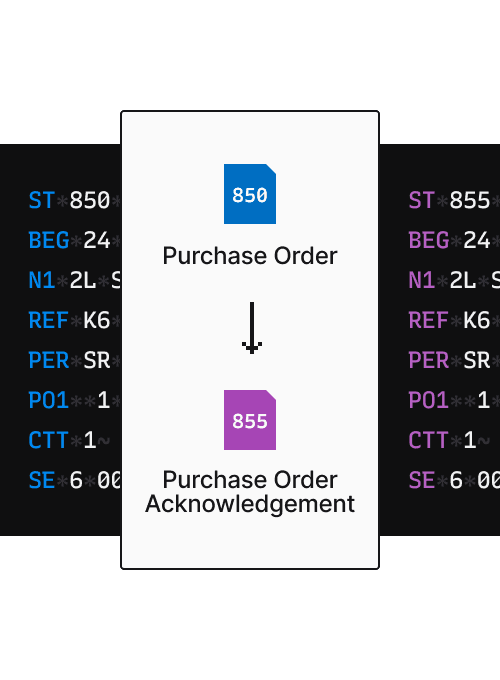 EDI – Electronic Data Interchange – is an umbrella term for many different "standardized" frameworks for exchanging business-to-business transactions. It dates back to the 1960s and remains a pain point in every commercial industry from supply chain and logistics to healthcare and finance. What makes it so hard? Why is it still an unsolved problem despite many decades of immense usage?

Start building
Contact the onboarding team to discuss a plan that includes hands-on support designing, building, and testing your first integration.